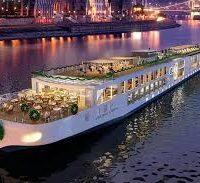 Burlington, Ia-  The city of Burlington is still working on the paperwork to allow cruise liners to dock on the river in Burlington.
These Cruise lines were part of the discussion during the Burlington City Council's latest work session on Monday.
Both the American Queen and later Viking Cruise lines will both be bringing passengers and docking in Burlington.
Viking Cruise lines will have priority booking over the American Queen, which means they choose their booking dates for docking in the city.
According to Assistant City Manager Nick MacGregor, Viking Cruise lines requested another docking sight near the Port of Burlington and has offered $50,000 toward construction for the new dock.
The new dock would utilize an opening in the flood wall. MacGregor said he does not know how much this would cost, but he said a docking grant could be for construction.
The new agreement still must be looked over by city staff and will be reworked need be.