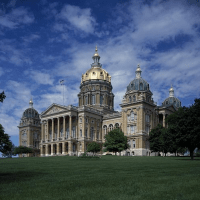 Des Moines, Ia (The Hawk Eye) — Delegates from Lee, Louisa, Des Moines and Henry counties attending Southeast Iowa Days in Des Moines heard Thursday from Iowa Gov. Kim Reynolds, who spoke at length about her newest proposed bill.
The Hawk Eye reports The Invest in Iowa Act, which Reynolds initially highlighted in her third Condition of the State address and formally announced Wednesday, addresses sustainable funding for Iowa's mental health system, tax relief and funding for the state's natural resources and outdoor recreation trust.
Local mental health regions now are funded almost entirely through property taxes, but that would change under the new bill, shifting the bulk of mental health funding to the state general fund, money for which would come, at least in part, from a 1 cent sales tax increase.
The Invest in Iowa Act also would reduce income tax by 10 percent in the first year. Additionally, lower-income Iowans would see a tax cut of 25 percent. It also would reduce the highest income tax rate from 8.5 percent to 5.5 percent by 2023.