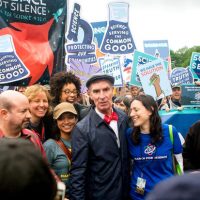 CHICAGO (AP) — Several thousand people rallied in downtown Chicago in a March for Science event, with participants saying science in under attack from the Trump administration.
Described on the Facebook event page as "non-partisan" in nature, the mission of the event was in part to "safeguard the scientific process, and research funding" as well as to "publicly celebrate science" and "encourage curiosity and exploration."
Those taking part marched Saturday from Grant Park to the Field Museum. Chicago police issued a request asking that more people heading downtown after the march started not do so because of congestion.
A brass band whose members wore white lab coats played "You Are My Sunshine" while stilt walkers in flashy costumes towered over them. Retired Northern Illinois University professor Charles Cappell waved a flag showing an image of Earth from space, saying it represented unity of everyone belonging to the same solar system.
Marcher John Engel said he was worried about funding for science and a lack of environmental concern from the Trump administration.