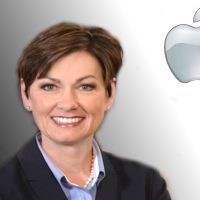 Governor Kim Reynolds says critics of the nearly 20 million dollars in state tax breaks awarded to Apple should focus on the "long term relationship" the state has cemented with the tech giant.
"I think it solidifies that Iowa is a tech and innovation hub," Reynolds says. "This is about jobs and this is about infrastructure and this is about growing the economy." Apple estimates 50 people will work at the two data centers in Waukee once they're built. Critics, including the Republican who leads the Iowa House Appropriations Committee, have questioned whether giving Apple 400-thousand dollars worth of state incentives per job is a good deal for Iowa taxpayers.
Ron Corbett, the Republican challenging Reynolds in the 2018 G-O-P primary, says the governor should have gotten Apple to commit to hiring far more people. Reynolds says the state isn't writing Apple a check. It's a tax credit and if they don't fulfill the terms of the deal, the company will get nothing.
"It's not just a snapshot in time," Reynolds says. "You've got to look long term and see the benefits that will continue to grow and if you look at Google and if you look at Facebook and if you look at other areas across the state where you've seen this kind of investment and the build-out in infrastructure, I think it demonstrates that, really, the long-term growth in jobs is phenomenal." Reynolds says the Facebook campus in Altoona, for example, has had hundreds of construction workers on site "for the last three years."