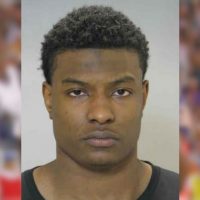 CEDAR FALLS, Iowa (AP) — A Chicago Bears defensive back pleaded guilty to two misdemeanors stemming from a fracas at a bar in northeast Iowa.
Deiondre' Hall and Green Bay Packers defensive back Makinton Dorleant were arrested March 26 last year outside Sharkey's Funhouse in Cedar Falls. A Black Hawk County court document said Hall didn't respond to police instructions and spit in officers' faces. Dorleant was detained after he approached officers in a threatening manner following Hall's arrest, police said.
Hall entered written pleas Feb. 9 to charges of disorderly conduct and public intoxication, the documents said. A charge of interference was dropped in exchange for his plea. The 23-year-old was sentenced to six months of probation on a deferred judgment. That will allow his conviction to be removed from court records if he successfully completes the terms of his probation.
The records said Dorleant, 25, was given a year of probation and granted a deferred judgment at his sentencing last May on the same charges. The Packers cut him in April after he failed a physical.
Both men played college football in Cedar Falls at Northern Iowa.