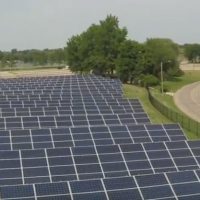 ---
The Campus of Burlington Notre Dame has just finished installation of a solar array, the 836 solar panels have been installed on the east side of the soccer complex.
The solar will provide about 95% of the school's electricity needs for the next 20 to 30 years according to the school.
A ribbon-cutting ceremony will be held to celebrate the new solar addition and clean energy at Notre Dame Schools located at 702 South Roosevelt in Burlington, IA on Friday, August 31, 2018 at 2:30pm. Parents, faculty, staff, students, alumni and the public are invited to attend.