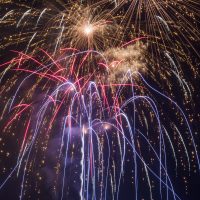 West Burlington's annual celebration will happen, once again, on the Fourth. They'll begin the festivities with the Fire Department's pancake breakfast, running from 6:30 to 10:30 AM. The Patriotic Service will be held at 10:30 with music from the Burlington Municipal Band and the fun goes all day. There will be vendors, bullfrog and bike races, and outdoor mainstage entertainment. This all leads up to the fireworks display at 10:01 PM.
Fort Madison will be shooting off fireworks after 9:00 PM on the fourth for their celebration. The Fort Madison Elks Lodge is hosting an All-American Picnic leading up to the fireworks show at Riverview Park.
Keokuk will be hosting festivities on the fourth. They kick of their celebration with the Fishing Tournament at 9 AM at the Rand Park Pond. The carnival hours are noon to 10:00 PM with half-price armbands on the fourth. Their fireworks show will be the following night on the fifth. The fireworks will be preceded by musical performances including the Nauvoo Pageant Bagpipe Band and Cassie Jones singing the National Anthem. The fireworks show begins at dusk.
Montrose/Nauvoo's joint fireworks show will happen on July 5th this year. The actual fireworks will be shot off from Montrose, but there is no doubt they will be seen from Nauvoo. The Nauvoo Community Band plays at 8:30 PM and residents of Nauvoo recommend the statue area across from the Temple to listen to the music and watch the fireworks.