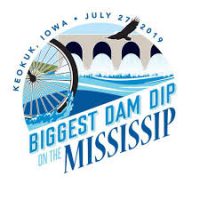 When the riders head out of Burlington on July 27th, RAGBRAI will take the final leg of the journey to Keokuk.
The decision about where to do the famous tire dip in the Mississippi had to be delayed. The flood waters made it impossible for Keokuk officials to decide where to end the race. With the Mississippi down and weather a little less wet the location has been decided. The ceremonial dip in the Mississippi will take place in Victory park.
The city says they are confident that they can have the park ready to go for the big day on the 27th.
The eight-day annual bike ride will pass through eight different Iowa communities. It will begin in Council Bluffs with unLEASH CB on July 20th, come through Burlington on the 26th for Rally to the Alley, and finish with the Biggest Dam Dip on the Mississippi on July 27th.