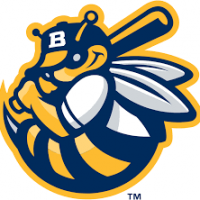 The Burlington Bees ended their four-game losing streak Saturday night with a win against the Peoria Chiefs. The Bees pitchers clocked in twelve strikeouts and the hitters made a total of ten hits in Saturday's game. Hector Yan alone struck out nine hitters, only giving up one walk and allowing Peoria's only two runs.
Burlington started out strong, their first run coming in the first inning by Nonie Williams. Williams hung on after two outs, hitting a single during his at-bat. Another single and a passed ball by Peoria took Williams all the way to home before the end of the first inning.
The Bees scored four more of their nine runs in the third inning, Williams scoring once again. Kevin Maitan started off the Bees' scoring for the third, but Williams was not far behind him. Francisco Del Valle, a man sending lots of players around the bases Saturday night, and Harrison Wenson were both driven into home plate by Connor Fitzsimmons. The Bees ended the inning 5-0, Peoria's only two runs coming in the sixth.
After the Chiefs scored in the top, the Bees answered with a four-run inning in the bottom of the sixth. Three players were walked, Millard, Griffin, and Wenson. Wenson's walk earned hm an RBI, the second run of the inning. Del Valle stepped up to the plate again after a pitching change, bringing in the last two runs of the game.
The game finished with a 9-2 score. Eduardo Del Rosario was credited with a hold for Burlington and Austin Krzeminski closed the final two innings on the mound.
Check out the Bees Sunday afternoon at Community Field with a start time of 2 o'clock. It will be their second game in the three-game series against the Peoria Chiefs.
***Picture and Game Recap provided by Bees Media Relations***