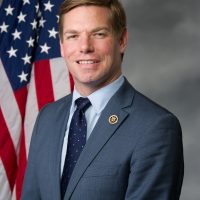 WASHINTON (AP)— Representative Eric Swalwell became the first candidate to quit the race for the democratic presidential nomination
Swalwall said Monday he will run for reelection to his California congressional seat next year.
The four-term congressman announced his exit in his home district, describing his decision as "the beginning of an opportunity in Congress with a new perspective". He said his 3-month-long presidential bid.
Swalwell pointed to his polling numbers as a reason he was leaving the race.
He had previously said he would consider bowing out if he was in danger of missing the cutoff point for the next nationally televised Democratic debate. Qualification for the debate is based on separate polling and donor qualifications.
He also declined to indicate which of his former rivals he might endorse in the primary and said he didn't seek the presidency as "a vanity project."