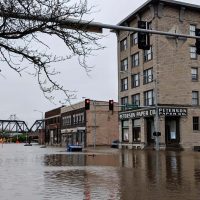 By Radio Iowa
The city of Davenport has assembled a task force of local officials, business leaders, scientists and resident to discuss how to handle flooding after a Hesco Barrier breech caused the downtown to flood.
Unlike many other river cities, Davenport does not have a permanent flood wall. Instead, temporary Hesco Barriers protect the city during times of flood. Those barriers failed in 2019 and downtown Davenport was flooded.
Davenport Mayor Frank Klipsch said the task force has a number of factors to discuss and that the formation of the task force does not necessarily mean the city is planning on constructing a flood wall.
On May 2nd,The Mississippi River at Davenport reached 22.7 feet, surpassing the all-time record set in 1993.