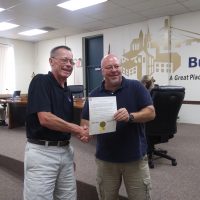 KBUR's Steve Hexom was honored by the Burlington City Council last night with a proclamation in honor of RAGBRAI.
The Des Moines Register's Annual Bike Rede Across Iowa will be coming through Burlington next Friday for its first ever overnight in a River town. This will be Burlington's 6th time being visited on RAGBRAI. For Steve Hexom, it will be his 40th ride.
Hexom's first involvement with the bike ride was in 1979 when RAGBRAI first came to Burlington. Hexom, who had worked for KBUR for two years at that point, served as the Master of Ceremony.
The next year Hexom launched Radio RAGBRAI and has provided daily coverage of the event.
When he accepted his award, Hexom said it was strange to receive an award for something he does every year.