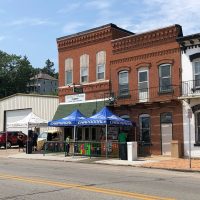 Like a lot of bars in Burlington, Kelly O'Shea's welcomed riders and locals from their sidewalk as they rode into and around town for this year's Rally to the Alley stop for RAGBRAI. When people walk in, they're hit with the cool air conditioning and maybe you'll even hear Branden, one of the bartenders. He's been known to encourage patrons to, "Soak up the air conditioning. It's free." Branden was born and raised Burlington and graduated high school years before the last RAGBRAI rolled through Burlington in 2009.

Even though Burlington hasn't hosted RAGBRAI in a decade, riders remain familiar with the town and the area. We talked to two riders outside Kelly O'Shea's from Team Whiners based out of Michigan, Marilyn and Karen. They've both been riding RAGBRAI for over a decade, Marilyn for 19 and Karen for 15. They've both been to Burlington before and love Iowa, the people being their favorite part of RAGBRAI.
Marilyn told us, "The people of Iowa are so nice, and we love our team members." Karen said, "It's a week of family with the Whiners." The Whiners are a RAGBRAI team from Michigan, and they have riders from all over the country and the world. Karen hails from Michigan, and Marilyn joins them from Colorado, but the team also hosts riders from Canada, France, and even Australia.
Another rider who rolled into Kelly O'Shea's this afternoon was Barb DeAngelis, a resident of the Burlington area just North of town. She told us she hadn't ridden the entirety of RAGBRAI since 2000, but she's been riding parts of it. This year she started her bike ride in Geode.
We asked what her favorite thing about RAGBRAI is and Barb flashed back to the year she rode the whole route. Barb enjoys riding into and stopping in all the little towns along the way. Oh, and there was one other thing: "Two dollar beers; That was the best."
Kelly O'Shea's is located down South Main Street, a perfect stop for RAGBRAI. You can keep cool, grab a drink, and eat some great food before you keep rollin' on down the RAGBRAI route.