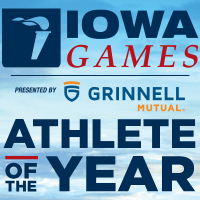 In a press release from the Iowa Games:
Do you know an Iowa Games athlete who has achieved success on and off the field? Nominations are being taken for the 2019 Iowa Games Marty McHone Athlete of the Year.
Since 1994, one female and one male athlete have been chosen to represent Iowa as its State Games Athletes of the Year. The selected nominations then are sent to the National Congress of State Games for consideration for the State Games National Athlete of the Year. In addition, the winners annually serve as the official torchbearers in the following Summer Iowa Games Opening Ceremony. The award was re-named in 2003 after former Iowa Games Athlete of the Year Marty McHone, who died of cancer in 2002.
The 2019 Iowa Games are being presented by Grinnell Mutual.
To see the list of former Athletes of the Year and to fill out your nomination, visit their website at www.iowagames.org.
Nominations are due by September 6, 2019.