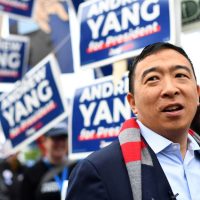 Burlington, Ia (Burlington Beacon)-  For the first time since launching his presidential campaign in November of 2017, Andrew Yang is coming to Burlington.
The Burlington Beacon reports that the entrepreneur will speak at an event called "Beers With Andrew Yang" from 8:30 to 9:30 p.m. Dec. 10 at The Washington at 306 Washington St. The event is free and open to the public.
Yang is best known for proposing what he calls a Freedom Dividend, which is a universal basic income in the form of $1,000 a month for every American adult. He believes the policy is a good response to the loss of jobs associated with increased automation.
Yang's platform also calls for "Medicare for All" and "Human-Centered Capitalism." He has stated that his version of Medicare for All allows for private health insurance to stay available as an option.