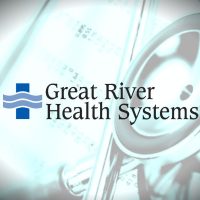 West Burlington, Ia-  With all of the questions surrounding COVID-19 testing, one executive at Great River Health Systems offers an explanation of the testing process.
In a video posted to Facebook, Great River Health President and CEO Mat Wenzel explains the testing process as it pertains to Great River Health.
"We're following CDC Guidelines, we have enough tests to ensure that we test everyone per CDC guidelines. "
Wenzel explains the process of getting results from a test for COVID-19.
"When does get tested we send that off to the State Hygienics Lab, and we can get results back within 24 to 48 hours.  Test results are shared form the Iowa Department of Public Health to the patient, and also to the local health departments."  Wenzel explains, "It is the responsibility of the local health departments to get out information on positive COVID-19 test results, and also to track as we progress through this pandemic."
Des Moines County has yet to see a positive test for COVID-19.