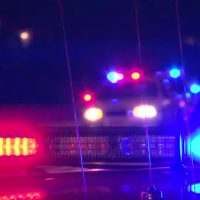 Davenport, Ia (KWQC)-  A davenport man was arrested Wednesday Morning after police say he pointed a gun at someone, then led police on a high speed chase through two states.
23-year-old Kyler Eagen of Davenport faces charges of possession of a firearm or offensive weapon by a felon and eluding.
TV station KWQC reports that officers responded to the 200 block of Washington Street in Davenport for a disturbance.  A witness told police Eagen pointed a handgun at someone then fled the scene in a vehicle.
Once officers located Eagen's car and attempted to pull him over, but he took off towards Rock Island.
According to a police report, at some point in the chase Eagen brandished the handgun out of the window of his vehicle.
The chase ended in the 200 block of Oak Street. Eagen ran from the vehicle but was quickly arrested.
Eagen's passenger, 31-year-old Benjamin Wendell Sr. was charged with possession of Marijuana.