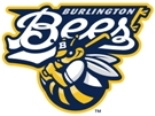 Burlington, Ia- The Burlington Bees' Buzz-Thru drive-up food service will be returning to Community Field today (Thursday) from 11:30 AM to 1 PM and 4 to 7 PM.
A new item available for order is a Tenderloin Sandwich Combo including a breaded tenderloin sandwich, Sterzings chips, and bottled water. Concessions offerings will also feature staples including hot dogs, burgers, nachos, and pretzels in addition to Community Field specialties Macho Nachos and Bees Rite sandwiches.
All orders must be placed ahead of time and maybe placed by phone to the Bees Front Office at 319-754-5705 or by emailing completed order form to staff@gobees.com. Bees staff will call all emailed orders to confirm the order and receive payment.