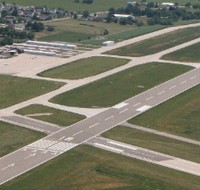 Burlington, Ia (The Hawk Eye)-  The Nearly $12 million dollar reconstruction of the main runway at Southeast Iowa Regional Airport is fully underway.
The Hawk Eye reports that the work began on the Burlington airport project in March.
According to Airport Manager Ted Brown, the runway was first paved in 1944 and resurfaced in 2005.
Crews have removed the old runway and chopped the concrete up into gravel to use as a base for the new surface.  The project will also include an upgrade to the drainage underneath the runway and parts of the airport.
Work on this project is scheduled to be completed in the fall.