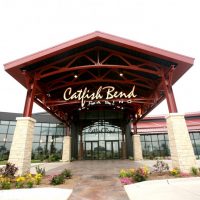 Burlington, Ia- Catfish Bend Casino has announced its plan to re-open its doors on Monday, June 1st at 10 AM.
The Casino had been closed since March 17th, but with Gov. Reynolds lifting restrictions, the casino will be re-opening, under some new guidelines.
According to a news release the casino had gone through a thorough disinfecting process during the shut-down, and multiple sanitizing stations were installed.
The Casino's Senior VP and GM Rob Higgins said  "We are thrilled to safely welcome guests back for fun and excitement in an environment focused on helping guests and employees stay safe and healthy."
Starting June 1st, the casino will be open Sunday through Thursday from 10AM till 12 AM, and Friday and Saturday from 10 AM till 2 AM.
The PointsBet Sports Book will remain closed until further notice.
Based on guidance provided by Iowa Racing & Gaming Commission, Iowa Gaming Association, Iowa Department of Public Health, CDC, WHO, and in conjunction with Governor's Office, the following public health safety measures will be implemented:
Catfish Bend Casino occupancy shall be reduced to not more than 50% of established gaming positions, excluding staff counts.
Slot machines and table games shall be spaced or otherwise divided to ensure social distancing mandates.
All Casino patrons and other guests will pass through a thermal temperature scan located at the North Casino Entrance. Only the North Casino Entrance shall be open until further notice.
Guests will be provided a mask upon request at the thermal temperature stations. All guests shall be encouraged to wear a mask while visiting the casino, and all players at table games shall be required to wear a mask during play.
Slots machines and tables games shall be sanitized as quickly as possible as players depart the machine or table. Dealers at table games shall sanitize regularly and frequently.
Social distancing cues will be placed on the floors where lines form. Social distancing protocols shall be maintained pursuant to Governor Reynold's orders. Barriers or shields shall be used at customer service counters and elsewhere when social distancing protocols are not possible.
All employees will enter the facility through a separate checkpoint, receive daily temperature scans, and will be required to wear a mask while working around others. Employees shall be required to thoroughly sanitize their hands at least hourly while on shift.
All touched surfaces will be sanitized regularly throughout the day, plus numerous additional safety protocols and procedures.