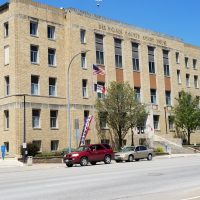 Burlington, Ia-  The Des Moines County Auditor's office would like to remind residents ahead of the June 2nd Primary, that curbside voting is available.
Curbside voting will be taking place in the south side parking lot of the Des Moines County Courthouse near Circle K from 8 AM until 4 PM Saturday through Monday.
This voting will be conducted by appointment only.  To schedule an appointment contact the Des Moines county courthouse at 319-753-8232.
For in-person voting on Primary day, precincts in the southern half of Des Moines County will hold voting at the hall of the sciences building at Southeastern Community College, while the north county precincts will vote at Mediapolis city hall.