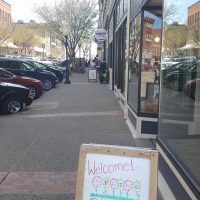 Burlington, Ia- Businesses in Downtown Burlington are showing their support for the graduating class of 2020.
Jefferson St and Downtown businesses are decorating their storefronts and showing their school pride to celebrate the graduating seniors.
Grads are invited downtown to commemorate their senior year by taking selfies in front of decorated storefronts, find the hidden photos of the employee's senior class photo, or bring in your own graduation photo to display.
The celebration goes through Saturday, June 6.