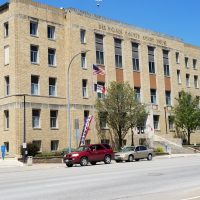 Burlington, Ia- The Des Moines County Courthouse will be re-opening today (Monday) after being closed for two months due to COVID-19.
Those who need to enter the courthouse are encouraged to make an appointment beforehand, and stay physically distanced from others by at least 6 feet.
Masks are encouraged within the courthouse but aren't required.
Only the south side handicap entrance will be open, and everyone will be screened before entering.