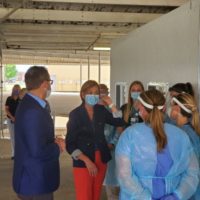 West Burlington, Ia-  During a series of stops on a brief tour of southeast Iowa, Gov. Reynolds paid a visit to the TestIowa drive-thru site in West Burlington.
Great River Health Systems President and CEO Matt Wenzel says he's pleased that the West Burlington site, the only TestIowa clinic site in the southeast Iowa region, became a model that was used across Iowa.
"Not only do I think that it's helping to save lives in our community," Wenzel said, "But also, that model with us being the first to design it, is getting rolled out across the state."  "So, Here in Burlington we were able to affect so much change across the state of Iowa,"  said Wenzel
Burlington Mayor Jon Billups calls it a testament to the quality of healthcare in Southeast Iowa.
"We've always been blessed in southeast Iowa to have excellent healthcare and great healthcare leadership," said Billups.  "So, once again this affirms that this is one of the best areas of the state to live in."
Clinic officials say that the West Burlington site performs between 20 and 30 TestIowa tests per day, with the capacity to perform up to 100.