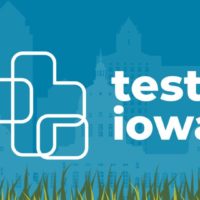 Des Moines, Ia – The State of Iowa has announced the closure of two Test Iowa sites this week. The Sioux County site closed Tuesday at 6 p.m.,  and the second site in Wapello County will close today (Wednesday, June 24th) at 6 p.m.
The state is actively pursuing clinic sites in both counties and testing remains available through local health care providers.
The Sioux County site opened on May 27 in Sioux Center, and the Wapello County site in Ottumwa opened May 13.
A total of 18 Test Iowa sites will remain following the two closures. Eight large-scale, drive-thru test sites are located in  Black Hawk, Buena Vista, Dallas, Linn, Marshall, Polk, Pottawattamie, and Scott Counties. Ten Test Iowa clinic sites are also available in Black Hawk, Carroll, Cass, Crawford, Des Moines, Dickinson, Dubuque, Mitchell, Page, and Union Counties.
Large-scale sites are managed and operated by the State of Iowa. Clinic sites are partnerships between the state and local health care providers. Clinics operate and staff the test sites. The state provides testing supplies and processes the samples through the State Hygienic Lab.