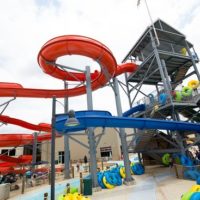 West Burlington, Ia-  The Hucks Harbor Water Park's located near Catfish Bend Casino in West Burlington will be opening on July 1st.
According to officials with Pzazz Entertainment, the water parks will be opening at limited capacity for a short season, lasting from July 1st until August 16th.
All tables, chairs, and similar areas will be spaced out further in order to follow proper physical distancing guidelines as part of efforts to curb the spread of the coronavirus.
There was some doubt as to whether or not the parks would be open, as some public pools in the area were closed for the summer season due to concerns over the ongoing pandemic.
However, officials say they expect a "hot hot summer,"  and they want people to "come and enjoy the summer fun as safely as they can."
The parks will be open daily from 11 AM till 6 PM.  The admission price is $10 per person.