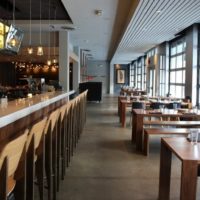 Des Moines, Ia-  The head of the Iowa Restaurant Association says the industry is cautiously optimistic heading into March.
Bars and restaurants in Iowa were shut down for in-person services almost a year ago, with multiple restrictions in place until those restrictions were lifted by Governor Reynolds last month.  Iowa Restaurant Association president and CEO Jessica Dunker tells Radio Iowa that despite the lifting of those restrictions, most places still have certain safety measures in place.
"Most restaurants and bars, if you have been into them, are still practicing things that they feel make sense for their business and their customers," Dunker says. "Here in the Des Moines area, we see a lot of the restaurants continue to have their staff wear masks. They haven't put all the tables back, they've put some of them back. We are seeing a continued emphasis on patio service when the weather cooperates."
Dunker says the industry finished the one-year mark with revenue down about 33% or about $1.45 billion nationwide, but she says restaurants and bars are seeing more customers return.
"Our operators are reporting in Iowa that they're only down 28%, so we are seeing that increase," Dunker says. "St. Patrick's Day is coming, Cinco de Mayo is coming, we were given back Valentine's Day, we were given back the Super Bowl, and so we really live for those events, and we are feeling better than we were."
Several restaurants and bars expanded outdoor seating areas as a way to spread out the number of people in their establishments. Dunker says many of those businesses will likely continue to offer those options in 2021.