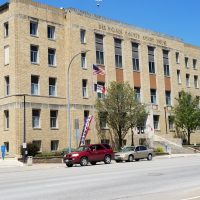 Burlington, Ia-  Des Moines County has filed a lawsuit against two Fort Madison companies for damages regarding a snowmelt system.
The Hawk Eye reports that the county has filed suits against Abolt Inc. and Great River Plumbing.  Both companies were hired to install a snowmelt system for the front steps of the Des Moines County Courthouse.
The system was installed in 2014 and has since stopped working.  Two claims were made by the county, that the companies offered a warranty, and that the companies had been negligent.
Both companies responded to the suit, saying that what happened to the system was an "act of god."