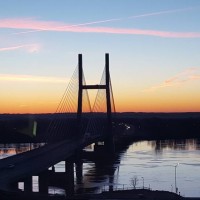 Burlington, Ia-  The Burlington Lightscape project so far has raised 60% of funds towards their final goal of lighting up Snake Alley and the Great River Bridge.
Phase 1 of the Burlington Lightscape Project was completed in 2016 with the lighting of  9 steeples in downtown Burlington.  As of Monday, a board of 8 community members has been working to raise funds to achieve phase two.
The group's goal is to re-light the Great River Bridge and Snake Alley with the same classic white LED lighting to complement the steeple lighting.
The group's goal is to raise $500,000, of which about 60% has been raised in pledges and donations.  In 2016 an Endowment Fund of $10,000 was established within the Des Moines County Community Foundation ensuring that the lighting of the Steeples, Great River Bridge and Snake Alley are maintained in future years.
More information on the Burlington Lightscape project can be found here.