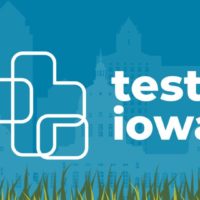 West Burlington, IA-  The state of Iowa is ending its free drive-thru COVID-19 testing program Friday, July 16th, including the TestIowa site operated by Great River Health.
According to a news release, the site had only been performing about 15 tests per day, compared to 800 back in November of 2020.
Free self-administered tests will be available through the Test Iowa program beginning Friday. Iowans may pick up a test kit at Des Moines County Public Health Department or Lee County Public Health Department, collect a saliva sample at home, return the sample by UPS and receive results through email. More information is available through the respective health departments.
Great River Health will continue offering nasal swab COVID-19 testing beginning Monday, July 19. Unlike the government-funded Test Iowa program, there will be a fee. Insurance may cover the cost.
Testing is available at these locations:
Burlington:
COVID-19 testing is available at QuickCare, 624 S. Roosevelt Ave., Suite 101.
Fort Madison:
COVID-19 testing is available at Walk-In Clinic-Southeast Iowa Regional Medical Center, 5409 Avenue O, Suite 120.
Keokuk:
COVID-19 testing is available in Urgent Care at Keokuk Clinic, 3285 Main St.
West Burlington:
Patients who have primary care providers at Southeast Iowa Regional Medical Center clinics in West Burlington should call their clinic to make an appointment.
Henry County:
Henry County Health Center clinics in Mount Pleasant, New London, Wayland, and Winfield offer COVID-19 tests to patients, who must see a health care provider before receiving a test. To schedule an appointment, call 319-385-6540.
Testing also is available without a health care provider's order in Henry County Health Center's Laboratory. To make an appointment, call 319-385-6540. Payment is required at the time of the test. Because tests are performed without an order, they are not covered by government programs like Medicare and Medicaid, and private insurers.