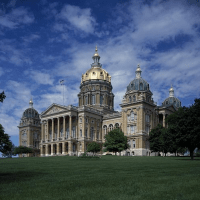 Marshalltown, IA-  Gov. Kim Reynolds has appointed a new commandant of the Iowa Veteran's home.
TV station WHO reports that Marine Corps Veteran Matthew Peterson has been selected by the governor to take over as commandant, taking over the position from Timon Oujiri, who was removed by Reynolds in May.
Peterson, a native of Red Oak, served as a major in the Marine Corps over a 20-year career spanning multiple deployments in 30 different countries.  His appointment is subject to Senate confirmation.