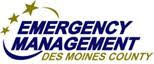 Burlington, IA-  Des Moines County Emergency Management's Community Emergency Response Team (CERT) will be hosting a free CERT Academy.
Attendance will be required for both training sessions in order to receive a course completion certificate. Help your community by becoming emergency disaster responders.
Des Moines County CERT is a group of volunteers trained in basic disaster response skills who are able to give support to the emergency response agencies in the area.
The Academy will take place on Saturday, November 6 and Saturday, November 13, 2021, from 8:00am to 5:00pm at the West Burlington Fire Department.
To register for the CERT Academy or if you have questions, please visit the website at www.dmcounty.com/EMA  or contact Cindy Bowen at the EMA Office (319) 753-8206 or cbowen@dmcounty.com.