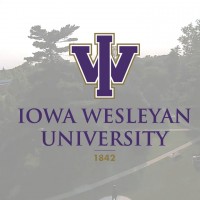 Mount Pleasant, IA-  The Firm National Management Resources has gifted $250,000 to support campus improvements and student retention initiatives at Iowa Wesleyan University.
Since 2001 Iowa Wesleyan has partnered with National Management Resources for its facilities, maintenance, landscaping, and housekeeping services.
"We are extremely grateful for our partnership with National Management Resources and their commitment to supporting our University mission and initiatives," said Iowa Wesleyan President Chris Plunkett. "Our campus is beautiful, safe, clean, and welcoming because of this partnership, and it is a source of great pride not only for those of us within the community but also for the residents of Mount Pleasant."
The donation will support facility enhancements on campus as a result of the University's enrollment growth and the switch back to the National Association of Intercollegiate Athletics (NAIA). The University will relocate its weight room from the basement of McKibbon Residence Hall to the first floor of the Howe Student Activity Center.
This renovation will also relocate the conference center on the first floor of the Howe Student Activities Center.