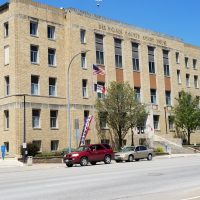 Burlington, IA-  The trial of a Burlington woman accused of seriously injuring a teen in an OWI crash is set to begin trial on Tuesday.
The Hawk Eye reports that 25-year-old Shelby Whittaker of Burlington has been charged with Operating While Intoxicated and Serious Injury in the accident.
The charges stem from Whittaker striking Spencer Weir, who was 14 at the time, with her car as the teen was riding his bicycle to Kenny's Roller Ranch in June of 2020.  Weir suffered multiple serious injuries from the incident but has since gone on to make a recovery.
Following the accident, Whittaker, who was uninjured, showed signs of impairment and a preliminary breath test showed she had a blood alcohol content of 0.87% at the time.  The legal limit is 0.08%.
Later blood sample analysis by the Iowa Division of Criminal Investigations showed her blood alcohol content at the time of the crash was actually 0.124.
If convicted, Whittaker faces multiple fines and up to 5 years in prison.