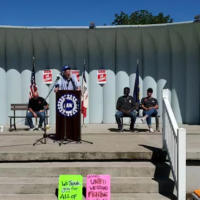 Burlington, IA-  Vermont Senator Bernie Sanders visited Burlington Friday, June 17th, to show support for the UAW local 807 Union amid contract negotiations with Case New Holland.
Senator Sanders called for CNH to return to the negotiating table and to make the striking union workers a better offer.
"If CNH, can afford can afford to spend over 100 million dollars on stock buybacks, over a six-month period to enrich their wealthy shareholders, they can afford to treat all of its employees with the dignity and the respect they deserve," Sanders said.
Contract negotiations between the union and CNH recently broke down after union officials rejected the company's latest offer.  UAW Local 807 President Nick Guernsey said that contract negotiations may not resume for some time.
"We're still digesting what their last offer was which really wasn't a change from their previous offer," Guernsey said.  "They're just not taking us seriously right now and until they do, there's no sense in wasting everybody's time," Guernsey said.
UAW workers in Burlington and Racine Wisconsin have been on strike since May 2nd.