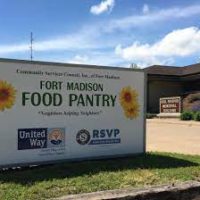 Fort Madison, IA-  The Fort Madison Food Pantry is seeking volunteers due to an increase of people seeking food assistance.
TV Station WGEM reports that over the last month pantry workers say they have been seeing nearly double the clients.  Pantry staff say they are in need of volunteers more than food donations.
The Food Pantry is located at 3421 Avenue L and is open Monday and Friday from 9 AM to noon, and on Wednesdays from 9 AM to Noon and 1 PM to 5 PM.