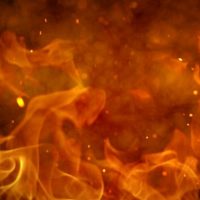 Burlington, IA-  Fire officials have determined that a bottle rocket was what sparked a Burlington house fire.
According to a news release, at 7:56 PM Thursday, July 28th, 2022, the Burlington Fire Department responded to a reported house fire at 535 May Avenue in Burlington.  Firefighters arrived at 7:59 PM to find smoke and flames showing on the exterior of a two story home.
Firefighters were able to bring the fire under control in less than fifteen minutes with assistance from the West Burlington Fire Department.
The home was under renovation and was unoccupied at the time of the fire.
The fire is considered accidental and was most likely caused by a bottle rocket that struck the home and ignited exposed house wrap.
Firefighters cleared the scene at 8:43 p.m.