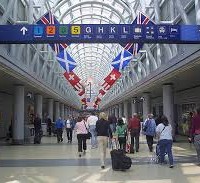 Burnsville, Mn-  AAA is predicting that 54.6 million Americans will travel 50 miles or more from home this Thanksgiving.
This year is projected to be the third busiest year for Thanksgiving travel since AAA began tracking in 2000.
Despite elevated gas prices, 89% of Thanksgiving travelers will drive to their destination, with AAA predicting that 48.65 million Americans will set out for a holiday road trip.  That's over 200,000 more than last year.
AAA also said that air travel is up nearly 8% from last year nationwide, with 4.5 million Americans flying to their Thanksgiving destinations this year.