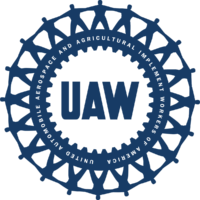 (AP)- More than 1,000 CNH Industrial workers who have been on strike since last May approved a new contract Saturday with the maker of tractors, bulldozers, backhoes and other heavy equipment.
The United Auto Workers said union members in Racine, Wisconsin, and Burlington, Iowa, approved the deal two weeks after they rejected an earlier agreement.
The union didn't didn't disclose any details of what is included in the contract.
A spokeswoman for CNH Industrial didn't immediately respond Sunday to questions about the new agreement. Previously, the company said the last offer that workers rejected included raises of 28% to 38% over four years.
According to a statement from UAW, the new deal "provides wage increases, shift premium increases, classification upgrades as well as other improvements."
"This agreement reflects the effort of a determined bargaining team and members being on an almost nine-month strike," UAW President Ray Curry said in a statement.
Throughout the strike, workers fought for raises that would help cover soaring inflation and wouldn't be consumed by increases in health insurance costs. Before the walkout started last May 2, workers rejected a deal with 18.5% raises because of those concerns.
"Our negotiators tenaciously bargained to the very end, even fighting for contract improvements in the face of threats from CNHI to hire permanent strike replacements," UAW Vice President Chuck Browning said. "Combined with the incredible support from our members, it's remarkable what had to be endured to achieve this contract."
With more than 37,000 employees worldwide, CNH Industrial has continued to produce construction and agricultural equipment throughout the strike and worked to keep its Wisconsin and Iowa plants running. The company, which is based in the United Kingdom, said its third-quarter profits jumped 22% to $559 million. It is set to release its next earnings report in early February.
The CNH strike was one of the longest ones in the recent spate of strikes since the pandemic. Workers at a variety of companies have been demanding and getting significant raises and better benefits amid widespread worker shortages. New unions have been established at Starbucks stores and Amazon warehouses, although some locations have rejected unions.
More than 10,000 Deere & Co. workers secured 10% raises and improved benefits after their monthlong strike in 2021 at another agricultural equipment maker.
In one of the highest-profile labor disputes of the past year, more than 100,000 railroad workers received 24% raises and $5,000 in bonuses in a five-year deal after Congress stepped in and blocked a potential strike because of fears about the economic consequences. Even with the big raises, many rail workers remain frustrated with the deal that was imposed on them because it didn't resolve their quality-of-life concerns about demanding schedules and the lack of paid sick time.