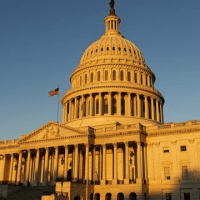 Washington- Three of the four Iowans serving in the US House are calling on a fellow Republican to immediately resign.
Radio Iowa reports that Congressman Zach Nunn of Bondurant says a report from the House Ethics Committee shows New York Congressman George Santos has not lived up to the ideals of honesty and transparency that Americans deserve from their elected representatives.
Congresswoman Ashley Hinson of Marion says Santos conduct was illegal and unacceptable. The ethics panel's report found Santos blatantly stole from his campaign fund and lied about his background.
Congresswoman Mariannette Miller-Meeks of LeClaire says if Santos doesn't resign, the House should vote to expel him.
Nunn, Hinson, and Miller-Meeks made their statements on social media after the House Ethics Committee released its report Thursday.  Congressman Randy Feenstra of Hull has yet to comment publicly on the report.
At the beginning of the month, all four Iowa representatives voted against a resolution to remove Santos from office, joining the majority of Republicans who said they were waiting on the report from the Ethics Committee before making a judgment.
Santos has said he will not run for re-election in 2024 but has refused to resign.