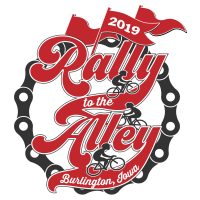 Rally to the Alley's namesake is a daunting challenge for the riders of RAGBRAI, a steep climb on their bikes up the twists and turns of Burlington's Snake Alley. Cyclists can choose to ride up Snake Alley from its Washington & 6th Street entrance, cheered on by fellow riders, friends and family, and local volunteers in bright blue shirts.

The Snake Alley Challenge turned out to be an attraction for a lot of riders, but especially for new RAGBRAI cyclists. We talked to four bike riders who, in their very first RAGBRAI, went up Snake Alley over and over again.
Shawn Rourke of Rockford, Illinois rode his bike up Snake Alley after three o'clock Friday afternoon. Him and his two friends started in Centerville, Iowa on Wednesday, a 5-6 hour drive from their home in Illinois. This is Rourke's first time riding the race, and his favorite part so far has been Snake Alley and it's challenge. "It's just a cool short, steep, fun little challenge."
Cameron of Sioux City is another first time rider of RAGBRAI, and we caught him after his eighth trek up Snake Alley. He started in Council Bluffs at the very beginning and is ready to ride into Keokuk tomorrow for the last day. When asked why he was riding RAGBARI, Cameron responded very simply: "I don't know." He was able to tell us that his favorite part of RAGBRAI is the break from work. The Sioux City-native took off shortly after talking to go ride up Snake Alley again and again.

RAGBRAI brings in people from all over, not just Iowa. Kenny of Eugene, Oregon was another challenger to the Alley on Friday. Yet another first-time rider of the Des Moines Register's race across Iowa, Kenny took all of the optional routes, like Snake Alley, including the gravel option. He braved Snake Alley not once, but twice by the time we talked to him. Kenny's favorite part has been meeting new people, especially in all of the small towns Iowa has to offer. He told us the drive from Eugene is 1,900 miles and they made it in about 22 hours. Him and his friends were so pumped for the Alley that they rode ride into town and found Snake Alley, ready to challenge its curves.
Jan Idol rode RAGBRAI this year, coming over from Kansas. She was sporting a purple Kansas State bike outfit and 2019 was her first year riding across Iowa. However, she already knew what waited for her in Burlington. Jan told us she has cyclist friends who come to Burlington for the Snake Alley Criterium, and now she can say she's gotten a little piece of that action. She, like all of the riders, only has one more day and she's calculated her riding miles: "I'm gonna have over 500 miles." Jan's favorite part of RAGBRAI was getting to meet John Karass, one of the co-founders of RAGBRAI.